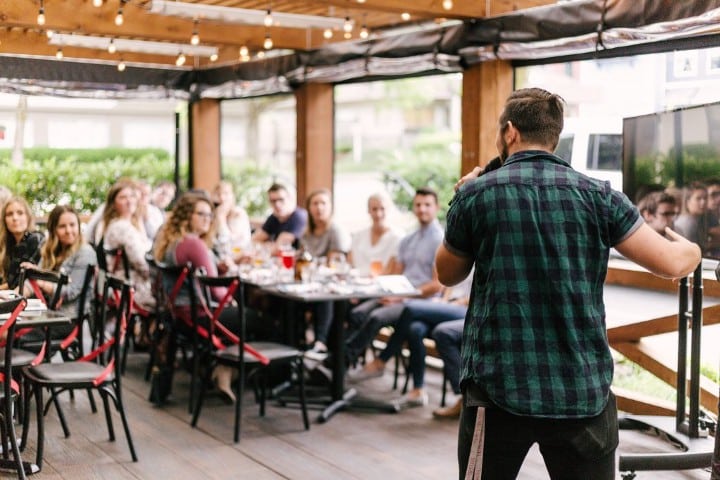 I recently spoke with several professional speakers about the state of our industry. As you can imagine, every in-person conference and meeting of consequence has been canceled. And the outlook for our industry in the coming months is bleak. At the beginning of May 2020, industry expert Mark Schaefer surveyed business executives who routinely travel to conferences and conventions; the results of the survey showed that in-person conferences over 500 people may not come back until early 2022. You can see that full article and the survey results here.
During these conversations with other industry professionals, I learned meeting planners have been expecting speakers to be available for free (or just about) when doing events remotely. For example, let's say a speaker was booked for an in-person conference, and their honorarium was $5000 plus out-of-pocket expenses ($6000 total); the company switches to a virtual conference, but now, they only want to pay the speaker $2000. What does that mean relative to how we value the speaker? I think it says the content was only ever worth $2000, and the fact that a speaker would show up at a hotel out of town was worth $4000. Is the conference organizer paying for the time it takes a speaker to travel to an event or for the dynamic, powerful content? If they dramatically reduce what they're willing to pay for a presentation because it's virtual, they are valuing the physical presence of the speaker over the speaker's content and delivery. Does that make any sense?
Let's apply that scenario to my good friend Lee Wetherington. People pay to see and hear from Lee—he is one of the biggest draws for any conference in the financial services sector. It is his content and the way he presents it that makes him worth $6000 (or more). If the same content is provided virtually, why would it be worth any less than $5000 (The original payment minus the additional $1000 out-of-pocket coverage.)? Now Lee might personally believe that doing a one-hour keynote from a home studio is vastly less time consuming than traveling to a remote location. So he decides to "discount" to $4000. But why does he need to discount at all?
As organizations dip their toes into virtual conferences, the early results are disappointing. Most virtual "conferences" are merely a series of webinars concatenated together. There is no real opportunity for networking, no vendor/sponsor engagement, no gamification, no buzz, no excitement. Now consider the organization hosting the virtual event is SAVING A FORTUNE BY NOT PAYING THE CONFERENCE LOCATION! No rooms, no catering, no travel for staff, no overpriced A/V, etc. So their budget should actually allow them to spend more on great speakers. In fact, speakers who can give a great performance in a virtual environment should be worth way more than an in-person speaker. And Lee Wetherington is a great example of the type of speaker that can make a virtual event special.
At the end of the day, the market will correct itself. Speakers that create compelling content and deliver that content in an engaging way will become more desirable—and ultimately they'll be rewarded financially for their skill and acumen. But for now, speakers can help meeting planners make their virtual events more meaningful by providing value-added services, such as becoming a virtual emcee or putting together a virtual panel on a timely subject. By offering to help the meeting planner make their virtual meeting a success, you increase the value of your services and make yourself more desirable. Which is very creative!
If you need a dynamic speaker that can make your virtual event pop, you should contact Lee Wetherington. His LinkedIn profile can be found here.